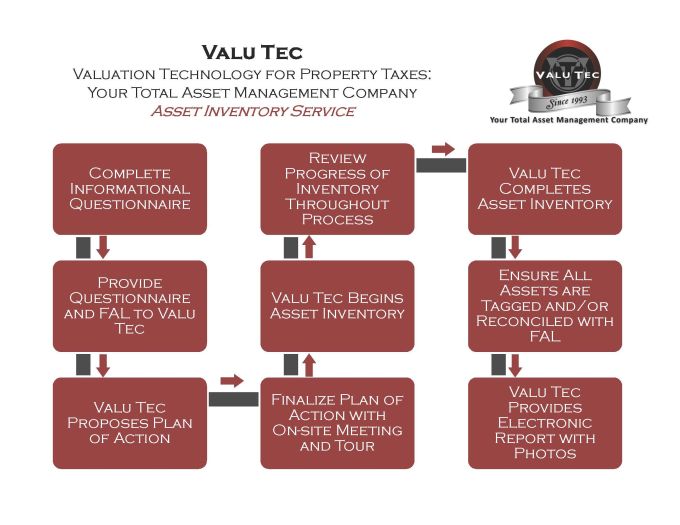 Valu Tec's Fixed Asset Management Program is needed for:

Sarbanes-Oxley (SOX) compliance

Insurance quotations

Proof of Loss claims

Due diligence for mergers and acquisitions

Personal property tax assessment

Documentation for financing

Abatements and classification of assets

Estate planning
Benefits of this program:
Provides complete corporate governance through control of fixed assets.

Delivers an up-to-date summary of physical assets in a hard copy and flash drive format.

Utilizes affixed tags and photographs for easy documentation of assets.

Provides smooth transition of data via Microsoft Excel.

Facilitates the tracking and transferring of fixed assets.

Facilitates inter-plant transfer of assets and provides tangible proof for abatement purposes of assets in question.

Asset descriptions can be clarified and organized for easy identification and tracking.

Assists in bankruptcy, sale, or company reorganization.
Referral Letters:
Complete our brief questionnaire (Word or PDF) and send to Steve@ValuTec.com, and we will prepare a no-obligation quote for our service.
A brief overview of basic asset management can be found by clicking here: https://valutec.com/basic_asset_management/
Or, contact us directly to obtain additional details of this service.